not to be confused with The Stikbot Movie (2020 Film)
Description
Edit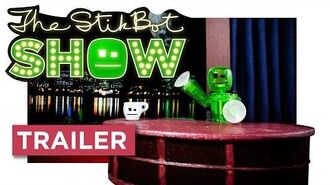 The StikBot Show is a weekly talk show hosting Stikbot. Each episode of the show consists of user-made videos/photos, interesting news, and interview of celebrity guest. New episode are on every other Friday.
Characters
Edit
Stikbot: Host of the show
Bob: Co-worker of Stikbot
Steve: Intern
Stikband- Sound
The Director: self explanatory
Episode List
Edit
Mario

Minions

Darth Vader

Raphael of TMNT

Mr. Potato Head

Superman
Sonic
John Cena

Kylo Ren

Deadpool

Captain America

Goku and Vegeta

Mega Man

Mystique

Spider-Man

Link

Iron Man

Ash and Pikachu

Five Nights at Freddy's

Sora
Flash

Hulk

Luigi

 Master Chief

Harley Quinn and...

Thor

Wonder Woman

Ghostbusters

Kirby

Ryu and Ken

Venom and Other Spiderman Characters

The Terminator

Alien vs. Predator

OFF THE GRID's Striker and Halloween Special

Sub-Zero and Scorpion

ROBO Deathmatch Special

Thanksgiving Special
Wolverine
Dr.Strange
Santabot
Top Moments of 2016
The 20k Contest Winner
SpongeBob SqaurePants
Updates and Contest Winners
Jyn Erso
New Set/Makeover
Lego Batman
Power Rangers
Angry Birds
The Rock
Guardians of the Galaxy
The Botchelor and....
Attack on Titan's Eren Jaeger
Captain Jack Sparrow
One Without Bob
Help Find Bob
Bob's Rescue
Lighting McQueen
The Stiks
Spider-Man
Gru and The Minions
Caeser and the Apes Take Over
Roblox
Bot Perfect (World Recorad Edition)
The 700k Subscriber Shoutout Special
Splatoon's Inklings
French With Fred
DanTDM
Samus Aran
Naruto
TMNT
Lego Ninjago
With 20,000$
FNAF: Sister Location
Tails of the Strange and.....
Halloween Special
Thor Ragnarok
Incredible Hulk
The Last Episode
CELEBRATION
Bendy and Striker From OFF THE GIRD
Greatest Moments of 2017
Rick and Morty (Holiday Edition)
Sans
Cuphead
Look Animals (Extreme Edition)
Jumanji
Black Panther
Bowser and ?
Glados from Portal
Deadpool and Botpool
The Incredibles
Teen Titans Go
Dance Party with Steven Universe
Halloween Special with Baldi and the Monsters
Hoilday Party with Stikbot
Kingdom Hearts 3
Emmett and Lucy
Avengers and Thanos
Link to Watch The StikBot Show
Edit
Community content is available under
CC-BY-SA
unless otherwise noted.